Mother Goose Picture Puzzles
by Will Hillenbrand
Marshall Cavendish Children's
March 2011

In a series of rebus picture rhymes, Hillenbrand shares several classic Mother Goose favorites such as Jack and Jill, Miss Muffet, Humpty Dumpty, Old King Cole, Wee Willie Winkie and more. These are short versions of the most popular rhymes in the Mother Goose oeuvre, perfect for one's first introduction to Mother Goose. Large, colorful illustrations make this a pleasant read-aloud for groups, and everything is labeled, Richard Scarry style. The slightly hearty 40 pages makes this a little longer than the typical picture book, but still not too much to read in one sitting. Hillenbrand cleverly interlinks the rhymes by showing tiny figures in the background, who then feature in the next rhyme. For instance, Hey Diddle, Diddle shows a well with a boy and girl running up a hill. Sure enough, the next page features Jack and Jill, tumbling down into a pumpkin patch, and the page after that features Peter, Pumpkin Eater, while the cow that jumped over the moon continues to hang out for several pages. This gives readers the pleasant sensation that they are strolling through Mother Goose Land, observing its inhabitants as they travel along.
Will Hillenbrand, pointing to the cat with the fiddle.
I was fortunate enough to meet Will Hillenbrand at the recent American Library Association convention, and he showed us his process for creating the art. Everything starts from a hand-drawn sketch, which is then scanned into a computer, colorized and tweaked. He showed us mock-ups, with just the background, and then showed us how foreground characters, fonts and rebus-drawings are dropped in.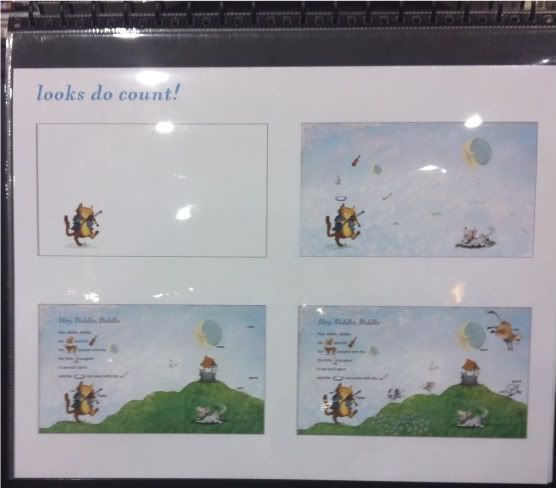 Artwork layers being added in.
Fascinating stuff! This is a must-have for any library with a Mother Goose collection.
I borrowed this book from the library.