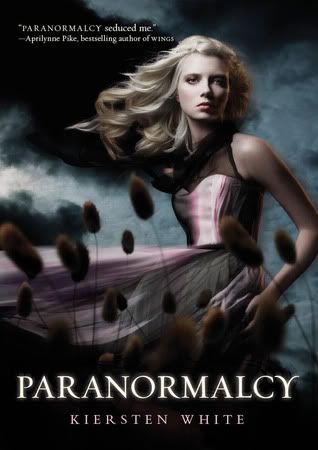 Paranormalcy
by Kiersten White
Harper Teen
August 2010

Kiersten White recently said in a series of interrelated Twitter posts:
"My writing is... not full of quiet grace. It's more like a sparkly pink baseball bat. To the face. But in a friendly way. Mostly. For example, @haleshannon's writing says, 'Oh, hello dear friend. Come with me on a beautiful, thoughtful journey. Drink me in. Savor.' My writing says, OH HI HI HI! LET'S HAVE FUN RIGHT NOW! SHUT UP I DON'T CARE IF YOU'RE TIRED! YOU'RE MY FRIEND WHETHER YOU LIKE IT OR NOT!"

Honestly, I thought the peppy enthusiasm of the book really carried things and made this a super fun read. It's not nearly as exhausting as White fears. Much like Buffy the Vampire Slayer, 16 year-old Evie is a petite girly, blonde who happens to be great at taking out supernatural creatures such as werewolves and vampires with her pink sparkly gun, "Tasey" while delivering quick-witted, snappy dialogue. Working for The International Paranormal Containment Agency keeps her pretty busy, and she longs to do normal things, like hang-out at the mall, go shopping, go to school. As the story picks up, you start to see how lonely Evie really is and the pressures put on her by her supervisors who are always ready to "bag and tag" the next creature. I wondered how Evie would manage to have a best friend who was a mermaid - it turns out Alisha's lagoon had become so polluted that Alisha, or Lish for short, jumps at the chance to work for IPCA, in a self-contained water bubble command center. Mermaids have eidetic memories and don't need to sleep, making her the perfect employee to run their switchboard. Neat! She speaks with a voice translator that bleeps out any swear words.

In the meantime, possessive and scarily dangerous Reth, a faery, is always popping in and out, threatening to kidnap Evie. Things get really interesting when Evie meets a new type of paranormal - a shapeshifter who calls himself Lend. Against the orders of her superiors, Evie runs off with Lend to discover that IPCA and her own abilities to see past supernatural glamors isn't what she's always been told.
I liked the whole tone and feel of the book - alternating silliness with incredible danger, a great sense of suspense in all of the fight scenes, the slow and gradual dropping of hints, the prophecy and Evie's visions of the disturbing fiery Vivian were really well handled. The sequel, Supernaturally, was just released. I'll recommend these books for any YA readers who like paranormal, but are getting tired of all the dystopians out there.

I borrowed this book from the library.