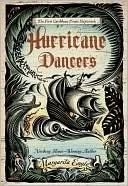 Hurricane Dancers
by Margarita Engle
Holt, Henry & Co.
March 2011

It's no secret that I am a fan of narrative poetry. As a connoisseur of the genre, I love the way that novels in verse read like any other kind of novel, with the same amount of story arc, but in a condensed, fast-flowing form that cuts directly to the heart of the matter in a spare and beautiful way. I recently read Engle's wonderful picture book treatment of one of the earliest female scientists, Summer Birds, and when I saw she'd written a new book, I knew I had to get my hands on it. I was delighted and surprised to find it was a full-length novel in poetry format. Hurricane Dancers was completely different, but just as lovely. A variety of characters each takes turns telling the events of a famous shipwreck in the early days of European exploration of the American continent. Each poem is simply labeled with the name of the speaker, who naturally have very different takes on the turn of events.

Quebrado, whose Spanish name means "broken" has badly used by his Spanish captors. Bernardino de Talavera is a conquistador transporting his erstwhile comrade-in-arms, now captive, Alonso de Ojeda, both very cruel figures in their own right. After the hurricane, the tables are turned when the Spaniards are thrown on the mercy of Quebrado, the one person who has most reason not to help either of them. The dramatic tension is smoothly handled, and Bernardino and Alonso are petulant, self-justifying and guilt-ridden by turns. In the meantime, Narido, a poor fisherman of the village and Caucubu, daughter of the chief, are in love, but forbidden to marry and Quebrado, who changes his name to Yacuyo, must decide if and how he will help them run away together.

Here is an except from the first poem in the book.

a mourning moan
as this old ship
remembers
her true self,
her tree self,
rooted
and growing
alive,
on shore.

I love that imagery, of the boat being a tree longing to return to shore! It really highlights the perilousness of those early ocean voyages.

The book is appended with an author's note, a historical note, and a list of references. I found the list of English words taken from the Taino language simply fascinating. I had no idea that we owe the Taino for words such as barbeque, barracuda, canoe, guava, hammock, hurricane, iguana, papaya, savannah and tobacco.

Much like Paul Fleishman's Bull Run or Laura Amy Schlitz's Newbery winning book, Good Masters! Sweet Ladies! Voices from a Medieval Village, Engle's latest offering of poems would lend itself well to being read aloud in a reader's theatre format. Engle won a Newbery Honor for her 2008 novel, The Surrender Tree: Poems of Cuba's Struggle for Freedom, and I could honestly see Hurricane Dancers as a serious contender for the Newbery this year. Highly recommended.


I borrowed this book from the library.