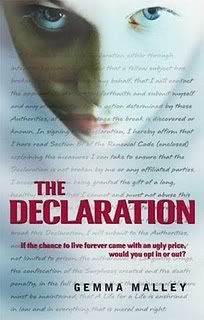 The Declaration
by Gemma Malley
Bloomsbury
October 2007

Surplus Anna's been brainwashed into submission in a world where procreation (and therefore, all young people) are forbidden. It's the year 2140 in London, but the story doesn't feel that far away, or overly British.

Citizens who
take Longevity medicine must agree to sign away their reproductive rights. It's a fair bargain, but one that many people would like to break, so they can have their cake and eat it too. This book presents a slightly more sophisticated take on these issues than Haddix's Shadow Children series. It's also somewhat reminiscent of J.G. Ballard - as a very minor point in the story Americans living in "uninhabitable" places naturally pack up and leave, once their air conditioning and other creature comforts are taken away. There were allusions to The Handmaiden's Tale as well, with the docile servitude expected from the illegal children. On the whole, I enjoyed this, despite a few holes in the plot, and an ending that managed to simultaneously tie things up a little too neatly yet still leave some major questions unanswered. This would be a great read for anyone who's enjoyed some of the more recent dystopian novels such as Drought by Pam Bachorz, Ann Aguire's Enclave, or Veronica Roth's Divergent.

I borrowed this book from the library.