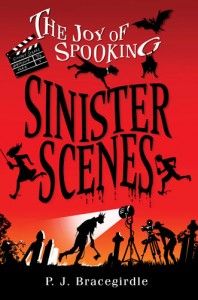 Sinister Scenes
by P.J. Bracegirdle
Margaret K. McElderry Books
August 2011

Joy Wells, a resident of the historic town of Spooking, is delighted to finally be graduating from Winsome Elementary in the boring neighboring suburb of Darlington. She loves reading stories by famous horror writer E. A. Peugeot and studying the exploits of early aviatrix Melody Huxley. Preteen readers will certainly relate to Joy's nervousness about an upcoming school dance, her budding crush on Louden Primrose, her annoyance with her younger brother, and her embarrassment over anything her parents say or do. Sour villain Mr. Phipps has been reduced to working in a music store, but soon concocts a plan to get the film industry to come to Spooking. Once again, Joy finds herself amid a swirl of intrigue when young actress Penny Farthing goes missing; Joy auditions and wins the part. Between early-morning call times, long hours, and dealing with her crazed costar Teddy Danger, she soon finds that working for Hollywood isn't all it's cracked up to be. Joy finally comes to peace with the competing suburb of Darlington and works up the courage to talk to Louden. Lemony Snicket's fans will find a lot to like in this concluding volume of the trilogy. It has sophisticated vocabulary, a dry sense of humor, and an amusingly deliberate gothic tone. Heavy exposition is helpful in reminding readers of the complicated backstory. Melodramatic and unlikely coincidences, including ghosts and gypsy curses, bring the novel to a satisfying conclusion.


I received a free copy of this book from the publisher.
This review originally appeared in School Library Journal.