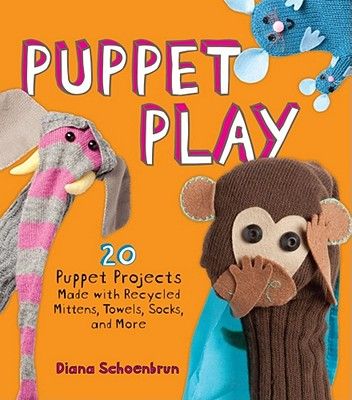 Puppet Play: 20 Puppet Projects Made with Recycled Mittens, Socks, Towels and More
by Diana Schoenbrun
Andrews McKeel Publishing
April 2011

This delightful offering is an inspiration for crafters everywhere. Written in the most basic terms, the book begins with a simple intro to kinds of materials to look out for, easy-to-read diagrams showing different kinds of hand-stitching, and a few pattern suggestions. While a few of these creations looked a little "unfinished" to me, there were plenty of puppets that struck my fancy. I was especially impressed with the floppy, wrinkly, beautifully long-trunked elephant puppet, fashioned out of a mismatching pair of grey striped socks. I also liked the looks of the sock monkey super-hero puppet (not your typical sock monkey!) and the inspired choice of an old argyle sock as the body for a wacky looking wizard. The green bandanna frog was cleverly made, although not quite my style, and the two-sided fish, made out of mismatching washclothes begs to have a song or rhyme written about him for storytime. The kangaroo puppet, fashioned from a re-purposed glove and the giraffe puppet made of tea-towels and clothespins both looked a bit daunting, but there were plenty of projects here eminently suitable for a beginner.

Many of these puppets were so clearly inspired by the found materials they were made from - for instance, where on earth would you find a lumpy, striped grey sock that is nearly as good as the one used in the book for this elephant? It seemed to me the best sock puppets came from unusual socks - large, old, colorful, fantastically-patterned knee socks seem to be a safe bet for really terrific puppet characters. Use this book as a jumping off point for your own puppetry creations. Dedicated crafters with a hearty supply of buttons, fabric scraps and notions will doubtless find these projects easy, but even a novice puppeteer could get started with a trip to their mismatched socks basket, a few sheets of cheap felt, and maybe a trip to a secondhand clothing store for a few extras.

The book is appended with some puppeteering tips, character creation ideas, and a list of websites of prominent puppetry arts organizations.


I received a free copy of this book from the publisher.