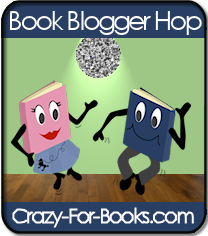 The
Book Blogger Hop
is a weekly meme hosted by Jennifer at
Crazy for Books
.
This week's question is:

As a book blogger how do you introduce yourself in your profile?
Well, my full profile is here, but the quote that I have, "I'm trying to keep up with all the wonderful new things being published each spring and fall... they write books faster than I can read them!" is something that I've been saying for probably over 10 years now. I used to work in an independent bookstore where I did a lot of handselling. Handselling, basically, is talking with people about what books they like, and then making personal recommendations for them - naturally, it involved taking home LOTS of ARCs to read, so you'd always be up on the latest new books. It was a great job, and probably what led me to working in libraries today. Anyhow, after talking up a dozen books or more, I'd nearly always have customers gasp with amazement and say, "Have you read all the books in the store?" And I'd ruefully reply, "No, authors write books faster than I can read them." It's true. No matter how much reading I do, there's always a few titles each year that I meant to get to but never did. C'est la vie.

What do you think of my profile? Should I add anything? Change it? I've been toying with changing my profile picture, although I do really like this one.