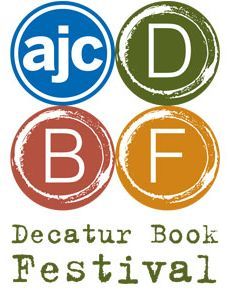 Last week I was at the Decatur Book Festival! How did it go? Saturday was the day before the weather finally broke so was a hot, hot day, at the end of a long, hot summer, but the crowds were still out in force. I had the opportunity to tell some stories at the Atlanta-Fulton Public Library tent - even though it was a little tough to scare up an audience, considering there were so many other competing delights to be had at the Festival. There was a Skippy Jon Jones parade, a hula-hooping event and so much more. I spent quite a bit of time, scoping out all the booths - how heartwarming it was to see so many literature lovers gathered in one place! Honestly, I might have a longer and better report of the festival if I talked about all of the things that I missed: there were nearly 500 authors scheduled to appear. Unfortunately, I didn't get to see Libba Bray or Beth Revis, and I also missed seeing Andy Runton, creator of the wonderful, nearly wordless Owly graphic novels. I'm told that Andy Runton is a local to the greater Atlanta area, so maybe I will run into him at some future event. There also was a Pete the Cat parade, full of fans of Eric Litwin and James Dean. Local (and famous) authors Jackson Pearce and Laurel Snyder were there too. It's difficult to say how many people were there, but it was a massive crowd. Some estimates go as high as 80,000 attendance over the long weekend, a number I can easily believe.

What I did make time for was some shopping... I picked up this gorgeous leather-bound journal.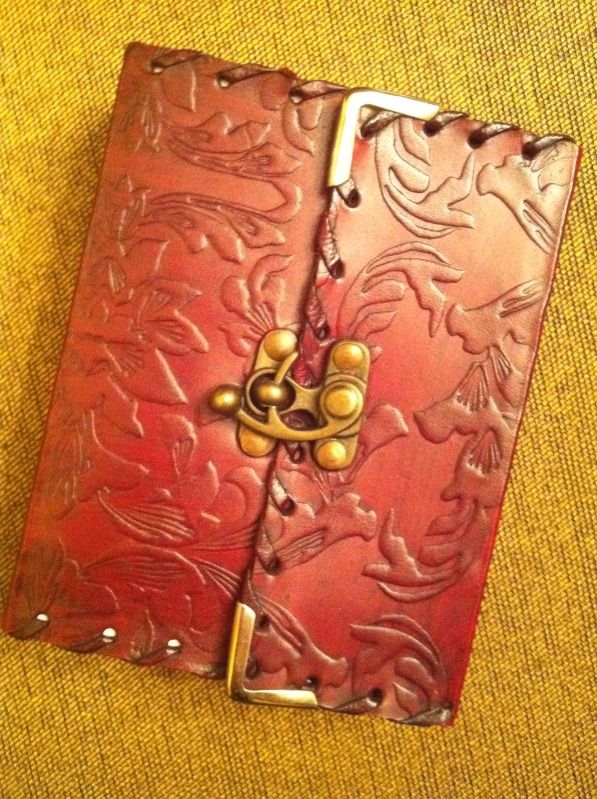 I also stopped to check out this art installation. Passersby were invited to share what they were reading on these faux bookshelves.
What were most people reading? Let's just say I saw a lot of The Hunger Games noted on the "shelves."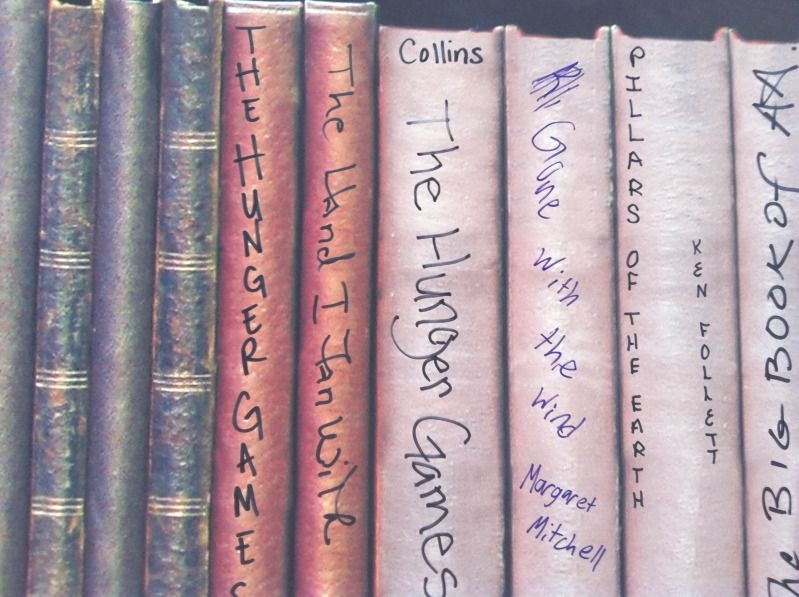 Interestingly, the mood that I picked up on was a lot of sadness and worry. I can't tell you how many people told me in wistful tones that they missed the library, and they were disappointed with the e-books revolution because it meant that books wouldn't be around anymore. It felt really good to reassure people that the library, as an institution, isn't going anywhere (at least, I hope not!) A lot of people thought that they didn't qualify for a free library card, when in fact, they do. We got a lot of library card sign-ups that day. Everyone that I talked to was shocked, shocked to learn that yes, you can get e-books at the library. One gentleman asked me if I felt "disloyal" when I read e-books, and I told him, no, I appreciate books in all of their forms. I embrace the future, even as I retain my love for old books.

I pointed out to several people that e-books probably are bad news for cheap mass market paperbacks, but honestly, I have seen the quality of hardcover books increase dramatically ever since e-books have really taken off. Foil embossing, ingenious and beautiful cover designs, reversible dust jackets, deckled edge pages... publishers are pulling out all the stops to make books in their physical form really worth having.

More than one person told me that they felt that they were one of the few people around who appreciated books... part of a rare breed. I took great delight in waving my arms about, gesturing to the 40,000-odd people in the crowd and saying, "Look! There are all your fellow book lovers! Books aren't going anywhere, not when there are so many people who love them."