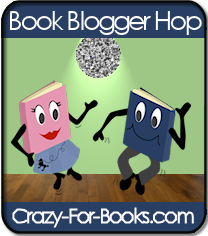 The
Book Blogger Hop
is a weekly meme hosted by Jennifer at
Crazy for Books
.
This week's question is:

Many of us primarily read one genre of books, with others sprinkled in. If authors stopped writing that genre, what genre would you start reading? Or would you give up reading completely if you couldn't read that genre anymore?
I'm sure it's no secret that fantasy is my favorite genre. I feel lucky that it's probably the most popular genre right now, and has been for at least a decade. I'm tempted to cheat and say if fantasy were no more, I'd read science-fiction, but honestly, the two are lumped together so often, and indeed, sometimes even intermingle in a single book, they're practically extensions of each other. Or non-identical twins, let's say. If I was going to read something really different, I think I'd go with mysteries, especially historical mysteries like Anne Perry's William Monk and Thomas Pitt series. I like cozy mysteries, since the focus is solving the puzzle, without too many gory details on how the murder crime happened. I also like missing treasure mysteries, where no one dies, but the hunt is on for a fantastic hidden treasure, or a lost or stolen artifact.
Parajunkee's View has an interesting question for Follow Friday this week. I can't claim to be properly participating, since I'm pretty selective about who I follow, but she asks:
Have you ever wanted a villain to win at the end of a story? If so, which one??
Yes, naturally, I root for Snape to win at the end of Harry Potter! Spoilers ahead... Dumbledore was so very old anyway, what if he had just died of natural causes, leaving Snape's reputation (relatively) unsullied. Then Snape could become Headmaster at Hogwarts, freeing him up to harass generations of Potter kids! Rowling has said in interviews that she thinks Snape only gets so much sympathy because Alan Rickman is a brilliant actor, but that's not true! Snape is such a well-rounded character, with an interesting backstory. And sure, Harry has been treated badly by the Dursleys his whole life, but once he gets to Hogwarts, he kind of becomes Wonder Boy, and it's good to see at least one adult prepared to give him a hard time about bending or breaking so many rules.
You know that I'm not too villainous... it's not like I'm rooting for Voldemort, after all!