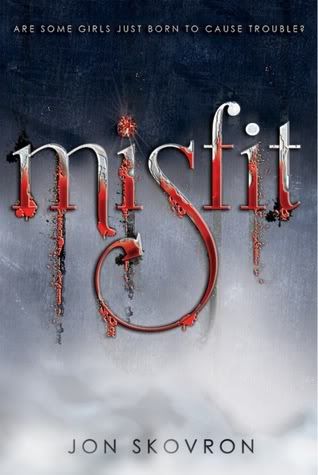 Misfit
by Jon Skovron
Amulet Books
August 2011

In a story about a girl struggling with her half-demon heritage, I suppose I shouldn't have been surprised by the heavy presence of religion, specifically Catholicism in this book. 16 year-old Jael Thompson has been on the run most of her life. She and her father relocate every year or two. She's finally found a little bit of stability and friends in Seattle, when her father mysteriously demands that they hit the road again. The tortured romance of Jael's ex-priest father and demon mother (seen in flashbacks, aided by Jael's magical amulet) is supposed to be incredibly touching, but I failed to connect with either of these characters, especially Jael's now morose father. There's an added element of discomfort I felt in reading about the romance of her parents, which I really could have done without. I wanted all the romance to be about Jael! She does have a crush on cute boy Rob and they make some effort to sneak around their parents so they can see each other, but I didn't feel that Rob was "The One" for Jael... he's more a youthful fling.

Jael's uncle fishlike Dagon provides some comic relief... he's Hell's Baker (although, with all the blood we later find out that he uses, shouldn't he be called Hell's Butcher, or perhaps simply Hell's Chef, instead?) As Jael starts to come into her own, she unlocks her demon powers with an amulet gift from her mother, something her father has kept hidden from her. Much to her geeky mortification, her burgeoning supernatural powers mostly involve suddenly being charismatic and irresistible, especially to members of the opposite sex. Samson-like, her powers are amplified by her long, beautiful hair, prompting her to cut off her locks to keep her powers at bay until she can learn to control them. I liked having a ballsy heroine with a crew cut - it's not something you see much of in young adult fiction.

This book didn't completely amaze me the way that I hoped that it would, but it was still a solid effort and a mostly enjoyable read. Skovron is still a relatively new writer... I'm looking forward to his future efforts.


I received a free copy of this book from the publisher.