Coffee cups! And some tea cups too. Not all of these stories are about coffee.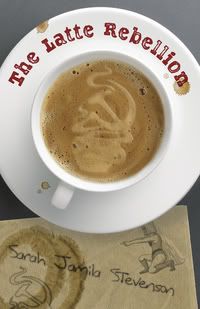 The Latte Rebellion
by Sarah Jamila Stevenson
Flux
January 2011

When high school senior Asha Jamison gets called a "towel head" at a pool party, the racist insult gives Asha and her best friend Carey a great money-making idea for a post-graduation trip. They'll sell T-shirts promoting the Latte Rebellion, a club that raises awareness of mixed-race students. Seemingly overnight, their "cause" goes viral and the T-shirts become a nationwide fad. As new chapters spring up from coast to coast, Asha realizes that her simple marketing plan has taken on a life of its own-and it's starting to ruin hers. Asha's once-stellar grades begin to slip, threatening her Ivy League dreams, and her friendship with Carey is hanging by a thread. And when the peaceful underground movement turns militant, Asha's school launches a disciplinary hearing.Facing expulsion, Asha must decide how much she's willing to risk for something she truly believes in. -from Goodreads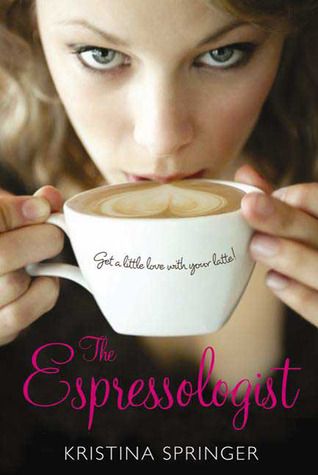 The Espressologist
by Kristina Springer
Farrar Strauss Giroux
October 2009

What's your drink of choice? Is it a small pumpkin spice latte? Then you're lots of fun and a bit sassy. Or a medium americano? You prefer simplicity in life. Or perhaps it's a small decaf soy sugar-free hazelnut caffe latte? Some might call you a yuppie. Seventeen-year-old barista Jane Turner has this theory that you can tell a lot about a person by their regular coffee drink. She scribbles it all down in a notebook and calls it Espressology. So it's not a totally crazy idea when Jane starts hooking up some of her friends based on their coffee orders. Like her best friend, Em, a medium hot chocolate, and Cam, a toffee nut latte. But when her boss, Derek, gets wind of Jane's Espressology, he makes it an in-store holiday promotion, promising customers their perfect matches for the price of their favorite coffee. Things are going better than Derek could ever have hoped, so why is Jane so freaked out? Does it have anything to do with Em dating Cam? She's the one who set them up! She should be happy for them, right? With overtones of Jane Austen's Emma and brimming with humor and heart, this sweet, frothy debut will be savored by readers. -from Goodreads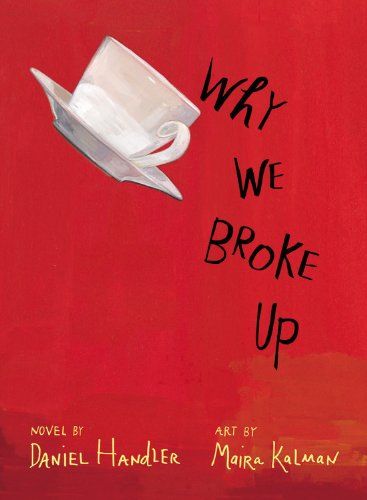 Why We Broke Up
by Daniel Handler and Maira Kalman
Little, Brown Books for Young Readers
January 2012

Min Green and Ed Slaterton are breaking up, so Min is writing Ed a letter and giving him a box. Inside the box is why they broke up. Two bottle caps, a movie ticket, a folded note, a box of matches, a protractor, books, a toy truck, a pair of ugly earrings, a comb from a motel room, and every other item collected over the course of a giddy, intimate, heartbreaking relationship. Item after item is illustrated and accounted for, and then the box, like a girlfriend, will be dumped. -from Goodreads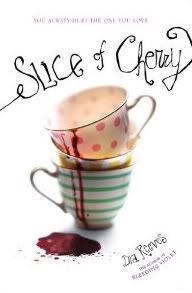 Slice of Cherry
by Dia Reeves
Simon Pulse
January 2011

Kit and Fancy Cordelle are sisters of the best kind: best friends, best confidantes, and best accomplices. The daughters of the infamous Bonesaw Killer, Kit and Fancy are used to feeling like outsiders, and that's just the way they like it. But in Portero, where the weird and wild run rampant, the Cordelle sisters are hardly the oddest or most dangerous creatures around. It's no surprise when Kit and Fancy start to give in to their deepest desire—the desire to kill. What starts as a fascination with slicing open and stitching up quickly spirals into a gratifying murder spree. Of course, the sisters aren't killing just anyone, only the people who truly deserve it. But the girls have learned from the mistakes of their father, and know that a shred of evidence could get them caught. So when Fancy stumbles upon a mysterious and invisible doorway to another world, she opens a door to endless possibilities… -from Goodreads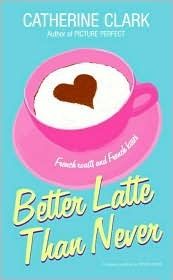 Better Latte Than Never
by Catherine Clark
HarperTeen May
2008

There's nothing more annoying than working in a coffee shop inside a gas station—and not being able to drive. And having to deliver coffee to your bus driver. Kamikaze Bus Driver sips his coffee, then charges back into traffic before I can even take a seat. I reach out for a seat back to hold on to, but the bus swerves and I fall onto the end of a seat that's already taken, right into the lap of none other than Mike Kyle. I'm shocked. Mike's never been on this bus before. This runs against the laws of nature. I'm just so stunned I can't help blurting, "What are you doing here?" completely impolitely. Then I realize I'm still sitting on his lap. -from Goodreads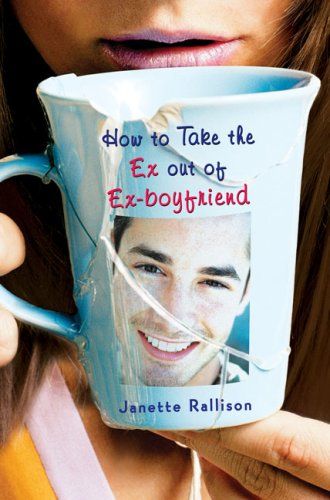 How to take the Ex Out of Ex-Boyfriend
by Janette Rallison
Putnam Juvenile
June 2007

Sixteen-year-old Giovanna Petrizzo finds it hard enough to fit in. Three years since her family moved to Texas, she's still the newcomer compared to everyone around her. It doesn't help matters when her twin brother, Dante, takes on the mayor's son by running for class president. The least she could expect, though, would be for her boyfriend, Jesse, to support their cause. But Jesse's apparent defection triggers Giovanna's rash emotional side, and before she knows it, she's turned Jesse from the boy of her dreams to the ex-boyfriend she dreams of winning back. -from Goodreads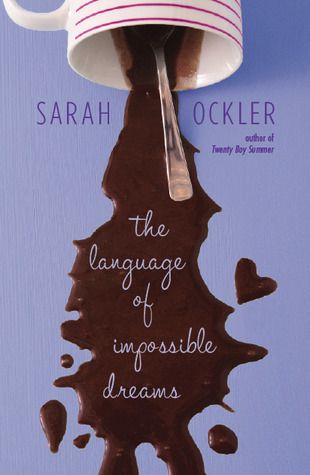 The Language of Impossible Dreams
Simon Pulse
August 2012

Once upon a time, Hudson knew exactly what her future looked like. Then a betrayal changed her life, and knocked her dreams to the ground. Now she's a girl who doesn't believe in second chances... a girl who stays under the radar by baking cupcakes at her mom's diner and obsessing over what might have been. So when things start looking up and she has another shot at her dreams, Hudson is equal parts hopeful and terrified. Of course, this is also the moment a cute, sweet guy walks into her life... and starts serving up some seriously mixed signals. She's got a lot on her plate, and for a girl who's been burned before, risking it all is easier said than done. It's time for Hudson to ask herself what she really wants, and how much she's willing to sacrifice to get it. Because in a place where opportunities are fleeting, she knows this chance may very well be her last... -from Goodreads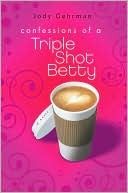 Confessions of a Triple-Shot Betty
by Jody Gehrman
Dial
April 2008

Geena can't wait to spend summer vacation with her two best girls: her friend Amber and her cousin Hero. All three are working at the Triple Shot Betty coffee shop together, but the moment Amber and Hero meet, the claws come out. They hate each other on sight. Geena's dreams of a girl-bonding summer fl y out the window, and then threaten to disappear completely when a few cute (okay, drop-dead gorgeous) guys come along to woo the Bettys. But all is not what it seems, and in a story of mistaken identities, crazy summer high jinks, and enough romance to make Shakespeare proud, Geena and her friends learn that when Bettys unite, they can take on the most powerful force in their world: a hot guy. -from Goodreads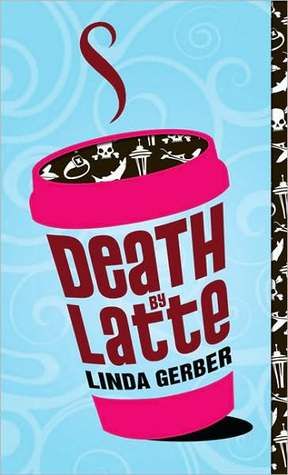 Death by Latte
Linda Gerber
Puffin
September 2009

It was only a few weeks ago that Aphra Connolly''s life changed completely. She had been living a quiet existence on her father's secluded island resort, until Seth Mulo turned up and stole her heart . . . and provided information that led her to find her mom in Seattle. But the reunion isn't quite what she expected. Aphra's mom, Natalie, doesn't seem happy to see Aphra, and Natalie's boyfriend, Joe, insists that Aphra go home. Even worse, Seth shows up, only to ask her to return the ring he gave her the previous summer. At least Natalie's hunky neighbor is sympathetic. But when Joe is found dead at a nearby coffee shop, Aphra discovers her whole trip to Seattle has been based on a lie. And now someone just might be trying to kill her... -from Goodreads



Gingerbread
by Rachel Cohn
Simon Pulse
June 2003

After getting tossed from her posh boarding school, wild, willful, and coffee addicted Cyd Charisse returns to San Francisco to live with her parents. But there's no way Cyd can survive in her parents' pristine house. Lucky for Cyd she's got Gingerbread, her childhood rag doll and confidante, and her new surfer boyfriend. When Cyd's rebelliousness gets out of hand, her parents ship her off to New York City to spend the summer with "Frank real-dad," her biological father. Trading in her parents for New York City grunge and getting to know her bio-dad and step-sibs is what Cyd has been waiting for her whole life. But summer in the city is not what Cyd expects - and she's far from the daughter or sister that anyone could have imagined. -from Goodreads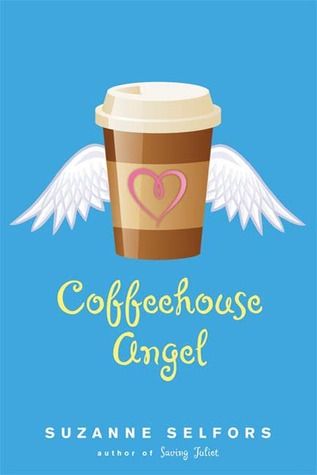 Coffeehouse Angel
by Suzanne Selfors
Walker and Co.
August 2009

When Katrina spots a homeless guy sleeping in the alley behind her grandmother's coffee shop, she decides to leave him a cup of coffee, a bag of chocolate-covered coffee beans, and some pastries to tide him over. Little does she know that this random act of kindness is about to turn her life upside down. Because this adorable vagrant, Malcolm, is really a guardian angel on a break between missions. And he won't leave until he can reward Katrina's selflessness by fulfilling her deepest desire. Now if only she could decide what that might be...
-from Goodreads


Know of any that I missed? Let me know in the comments.