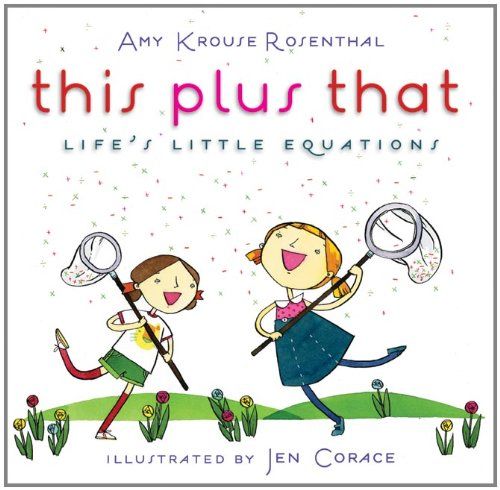 This Plus That: Life's Little Equations
by Amy Krouse Rosenthal, illustrated by Jen Corace
Harper
May 2011

This whimsical mathematical guide takes us into the lives of two little girls, as they put together some ingenious equations. Some of them are obvious, when you think about it, "yes + no = maybe." Others are more purely educational, for example, primary and secondary colors. Others only make perfect sense in hindsight, "chalk + sitting = school" vs. "chalk + jumping = hopscotch." The tiny-eyed, wide faces of rosy-cheeked children are the tiniest bit reminiscent of Joan Walsh Anglund's creations, but the depiction of their daily ups and downs doesn't feel nearly as twee (not to mention the presence of their long straight noses - definitely different than Anglund!) Crisp white backgrounds and creative typography with words that roll, wrap-around, or change size take you through the story. As fresh and clean as the illustrations are, I was surprised to uncover little details such as, "anything + sprinkles = better" is surrounded by a cutely kawaii birthday cake, doughnuts, cupcakes and hidden amongst them is a bowl of broccoli who look delighted to be favored with sprinkles as well. I also liked the overlapping green silhouettes of musical instruments on the symphony page.

There's a certain wry humor to "small + bottle = baby" and "tall + coffee = grown-up" as a dad hugs his baby in one arm, and his coffee with the other. I don't want to quote the whole book, but another of my favorite pages was "cozy + smell of pancakes - alarm clock = weekend" How very true! The illustration depicts a strawberry blonde girl snuggled under a rainbow pinwheel quilt, dreaming of a large stack of buttery pancakes. I'll recommend this fun book for readers 5-8 and see if it sparks them to make up any "equations" of their own.


I borrowed this book from the library.