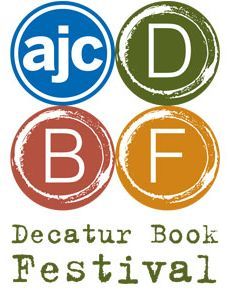 It's Labor Day Weekend, and that means it's a double-threat for awesome, huge, overwhelming, magical, cool activities to do in Atlanta, GA. On the one-hand, we have the venerable Dragon*Con, a mega-convention for science-fiction, fantasy, costuming and gaming of all kinds, and on the other hand there's The Decatur Book Festival, a monster collection of authors, illustrators, librarians, booksellers and book-lovers of every stripe. They've put forth claims to be the "biggest" book festival in the country (The L.A. Festival of Books, and the Texas Book Festival in Austin might have a bone to pick with that) but they certainly do rank in the top 10, if not the top 5 largest. Their line-up of authors is impressive, to say the least.
I'll be storytelling at the Decatur Book Festival at Booth 127, on Saturday at 10:00 am!
Come on by and say, "hello" if you can. I'm bringing some of my favorite puppets, my wackiest (badly sung) songs and funniest picture books to read-aloud. It should be a good time! Expect a full-report on all the goings-on later this week.