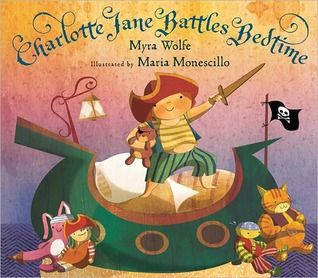 Charlotte Jane Battles Bedtime
by Myra Wolfe, illustrated by Maria Monescillo
Houghton Mifflin Harcourt
September 2011

Charlotte Jane is born with formidable oomph that keeps her one step ahead of her pirate family. "I like to get all the juice out of my days!" she says as she fearlessly tackles a particularly steep slide on the playground. "Sleep is your friend," her bearded, eyepatch-wearing, tattooed father says to a skeptical Charlotte. "No one can be hearty without it," her equally piratical looking mother adds. When Charlotte finally manages to pull an all-nighter, whispering, "Victory!" as the sun rises, she's disappointed to find that her oomph seems to have gone missing. While her parents gamely search everywhere for it, even checking the neighbor's recycling bin, Charlotte Jane is finally seduced by her featherbed. Even though she still thinks that "sleep is for landlubbers" she decides that her awesome dreams, "rip-roarers" make sleeping worthwhile after all.

Brilliant watercolor illustrations alternate full-bleed double-page spreads with pages using plenty of whitespace for contrast. The world depicted is a cheery suburban pirate-themed house. I liked the funny little details such as Charlotte's crib that appears to be fashioned out of an old rum cask. I loved her bedroom, which includes oceanic murals, a gangway plank, an oversize hammock/climbing net, and of course her ubiquitous teddy bear, One-Eyed Tom.

This would make a great bedtime read for reluctant young sleepers.


I borrowed this book from the library.