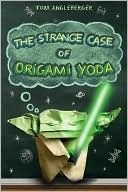 The Strange Case of Origami Yoda
by Tom Angleberger
Amulet Books
April 2010

This middle-grade realistic fiction novel is sure to have strong boy appeal, especially for fans of Star Wars, as well as readers who enjoyed Jeff Kinney's highly-illustrated Diary of a Wimpy Kid novels. In alternating chapters, various kids chronicle their run-ins with Dwight, a geeky loner, who has taken to wearing an origami Yoda finger puppet, which then dispenses eerily accurate advice to students. For example, when Kellen asks what to do after spilling some water on his pants (looking as if he'd wet himself) Origami Yoda sagely advises, "All of your pants you must wet!" After doing so, Kellen realizes having wet pants is much less embarrassing than having a single wet spot.

The text is sprinkled with deliberately clumsy line-drawings that hearken to the kind of notebook doodles that any student might be familiar with. Just the thing for graduates of Captain Underpants and/or Geronimo Stilton, this book scratches the surface of the complex maze of boy-girl relationships of modern tweens in a fast-paced and funny way. How does Dwight do it? How does he give such great advice as Yoda? We never really find out, but there's a great geek-positive message here with (most) of the kids learning to accept Dwight as he is. The book is appended with instructions on how to make your own origami Yoda.


I purchased this book.