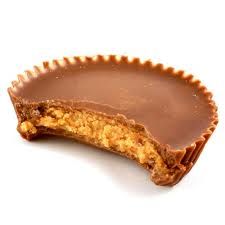 The
Book Blogger Hop
is a weekly meme hosted by Jennifer at
Crazy for Books
.
This week's question is:

What's your favorite candy?
What a good question... I don't really like most candy. I don't like sugar for it's own sake, although I do like sweet things. I do like chocolate. Hmmm. If I had to pick, I guess I'd say Reese's Peanut Butter cups.
When I was very young, one of the first movies I ever saw was Charlie and the Chocolate Factory starring Gene Wilder. The movie gave me nightmares! Sure, sure, everyone's scared of the Oompa Loompas, but the scary boat ride, the girl who blows up into a blueberry, the scene where they lick wallpaper and fly away? The whole thing is full of trippy moments like that. In grade school, I was encouraged to read the book, and not judge it by the movie... but the opening scene has four decrepit grandparents all sleeping in the same bed which seemed a little creepy to me too. I've harbored a deep distrust of Mr. Roald Dahl ever since.