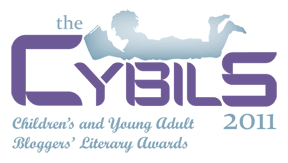 Nominations are open for Cybils awards. Haven't heard of the Cybils yet? You should definitely check them out. I think of them as the blogging world's answer to the ALA Youth media awards which includes the Caldecott, Newbery, Printz awards, etc.
Here are the titles I put forth.
Teen Fantasy/SF: Juliet Immortal by Stacey Jay
Middle Grade Fantasy/SF: The Princess Curse by Merrie Haskell
Teen Fiction: Pink by Lili Wilkinson
Poetry: Hurricane Dancers by Margarita Engel
Fiction Picture Books: A Zeal of Zebras by Woop Studios
Graphic Novels Teen: The Last Dragon by Jane Yolen and Rebecca Guay
Middle Grade Fiction: Have Fun, Anna Hibiscus by Atinuke
I'm really rooting for all of these. There are a few more categories, especially non-fiction, that I didn't nominate for, because I just didn't feel that I had read enough in that area... and all the titles in middle-grade graphic novels that I liked have already been nominated!
Read something great this year that you think deserves a spot on the list? Hurry over to the Cybils site to make your nominations before October 15.