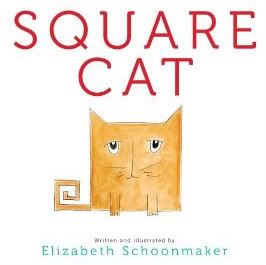 Square Cat
b
y Elizabeth Schoonmaker
Aladdin
January 2011
In this tale about fitting in, Eula the square cat longs to be round like her friends. Looking forlornly around, she finds that mouse holes are impossible, tipping over is a constant problem, and that she looks terrible in stripes. Depressed, she loses her purr, and two of her friends set about cheering her up. They try out wearing some cardboard boxes to give Eula some solidarity in her squareness and point out that while stripes don't work, she'd look fetching in checkerboard, that cubist paintings of cats are priceless and that mouse holes are difficult for any cat, no matter their shape.
The next time Eula tips over, she realizes that only a square cat could have this view and begins to purr again.
Plenty of white space is used in the ink and watercolor illustrations, lending a spare, clean look to the book. Eula's orange fur and Greek-key shaped tail stand out sharply from the plain white background. This is a strong debut by Schoonmaker, with a nice message about self-acceptance and how the power of friendship can lift one out of a bad mood. Recommended for cat-lovers of all ages and for anyone who's ever felt like a square peg in a round hole.
I borrowed this book from the library.