No matter how hard I try, it always seems that books I have on interlibrary loan come in at the same time! You'd think that with the advantage of being a professional librarian, and with my obsessive-compulsive habit of checking the library website every day, in order to assess how my holds are coming along, I would somehow be able to prevent this.

No such
luck! Somehow, I always seem to get swamped with everything in one go. This following pile, I was anywhere from 1st in line, 3rd in line, even 27th in line... yet, here they all are, all
at once.

Let's take
a look, shall we?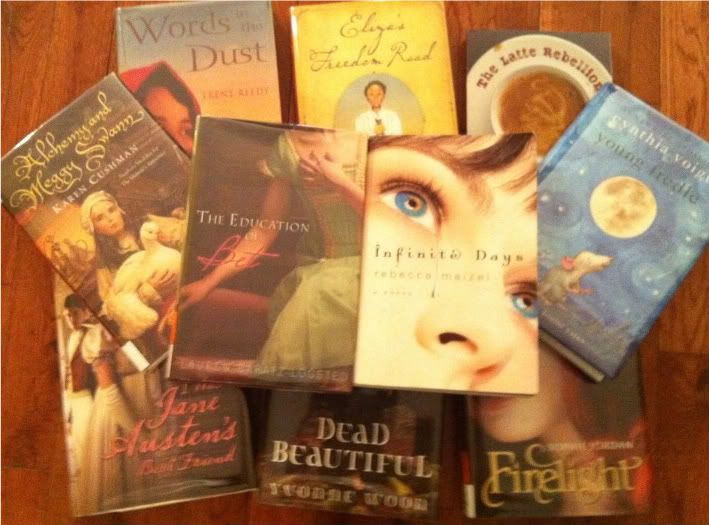 Here's the list of titles:
Words in the Dust - Trent Reedy
Eliza's Freedom Road - Jerdine Nolan
The Latte Rebellion - Sarah J. Stevenson
Alchemy and Meggy Swann - Karen Cushman
The Education of Bet - Lauren Baratz Logstead
Infinite Days - Rebecca Maizel
Young Fredle - Cynthia Voigt
I Was Jane Austen's Best Friend - Cora Harrison
Dead Beautiful - Yvonne Wood
Firelight - Sophie Jordan
This is why my heart always goes out to my library patrons who complain when this happens to them, that they can't possibly get everything read before the due date, and could they pleeease have a little extension? On the other hand... I know how frustrating it is to wait. And wait. And wait. For that uber-popular book that everyone is in queue for. Which explains why I sometimes capriciously help out a patron by renewing their books, and sometimes I won't!