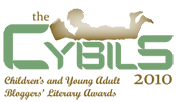 The day has arrived! This year's Cybils winners have been announced! Naturally, the first thing I am curious about is if any of my predictions from the shortlists have come true.
Here are the categories, and my thoughts on the winners.

Easy Reader: We Are In a Book - Mo Willems
Oh, I was so hoping that Cowgirl Kate and Cocoa would win! But, I did think that if anything else picked up the award, it would be a Willems book.

Early Chapter Book: Zapato Power: Freddie Ramos Takes Off - Jacqueline Jules
Didn't see this one coming at all!

Middle-Grade Fantasy and Science Fiction:
West
Wow, this one was another total surprise, at least for me.



Young Adult Fantasy and Science Fiction: Rot & Ruin - Jonathan Maberry
Disappointed by this one, because I might be a little zombied out. I think I need a break from horror, at least for a
while.

Fiction Picture Book:
Interrupting Chicken
- David Ezra Stein
I did not predict this one, but I'm not surprised. It's a great book.
Middle-Grade Graphic Novel: Meanwhile Pick Any Path - Jason Shiga
Rats! I was hoping Athena: Grey-Eyed Goddess by George O'Connor would win. Still, I know how popular Choose Your Own Adventure novels are... can't keep them on the shelf. Pair that with a graphic novel format, and you just can't lose.

Young Adult Graphic Novel: Yummy: The Last Days of a Southside Shorty - G. Neri
Ah, I just finished reading Ghostopolis, and was hoping it would make the cut. Again, another winner here that I'm not familiar with.

Middle-Grade Novel: The Strange Case of Origami Yoda - Tom Angleburger
I just finished reading this, and didn't love it as much as I hoped. Still, I didn't see a lot of strong contenders in this category, so I'm not surprised that this one won.

Middle-Grade and
Young Adult Nonfiction: The Secret of the Yellow Death: A True Story of Medical Sleuthing - Suzanne Jurmain
I was rooting for The Hive Detectives, another entry in the Scientists in the Field series. I'm not familiar with the winner, here.

Nonfiction Picture Book: The Extraordinary Life of Mark Twain According to Susy - Barbara Kerley
I was secretly rooting for Bones by Steve Jenkins, but I honestly did think that this one would win out. I was right!

Poetry: Mirror, Mirror: A Book of Reversible Verse - Marilyn Singer
Lots of wonderful contenders in this division, but yes, I did think Mirror, Mirror would win. It's so unique and beautifully done.

Young Adult Novel: Split - Swati Avasthi
I thought this award would go differently, but this sounds like a very interesting read... brothers who are trying to come to terms with the abusive household they grew up in.