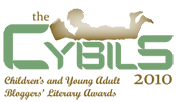 The 2010 Cybils short lists have been announced. I'm rather excited to see several of my favorites listed, including one that I nominated!
Who do I think (or hope) will win?

For
Easy Readers
, I'm obviously pulling for the book I nominated,
Cowgirl Kate and Cocoa: Spring Babies
by Erica Silverman. The only other nominee that I think could give it a serious run for it's money is
We Are in a Book
by Mo Willems, because the
Piggy & Elephant
series is
so popular.

For
Early Chapter
books, I see
Frankie Pickle and the Pine Run 3000
by Eric Wight as the clear winner. Nothing else on this short list really captivates me as much as
Frankie Pickle
does.

For
Middle-Grade Fantasy and Science Fiction
my vote is for
Dragonbreath: Attack of the Ninja Frogs
by Ursula Vernon. I'm not sure if the fact that it's a hybrid graphic novel (partly illustrated, mostly chapter book, a lá Diary of a Wimpy Kid) will help it or hurt it, but I hope it does win, because it's such a
funny book.

For Young Adult
Fantasy and Science Fiction, I have to say, I'm not too familiar with the books that made the list! I guess I'll root for Plain Kate by Erin Bow, because it doesn't sound like dystopian fiction, which I am growing a bit weary of, plus it has a talking cat, and you can nearly never go wrong with a talking feline.

For
Fiction Picture Books
, I just finished reading (more like, poring over with delight)
Flora's Very Windy Day
by Jeanne Birdsall. What a gorgeous book. There are a lot of great books in this category though. I could easily see the prize going to
A Sick Day for Amos McGee
by Philip Christian Stead, or even (although, it wasn't my favorite)
The Cow Loves Cookies
by
Karma Wilson.

For
Middle-Grade Graphic Novels
, I thought it might be hard to say which book I'm rooting for. But then I saw
Athena: Grey-Eyed Goddess
by George O'Connor had made the short list, and I knew that's the one. Athena has always been my favorite goddess, and I love the art, so I hope this
one wins.

The
Young Adult Graphic Novels
category is a true toss-up for me. I was so excited about
Pride and Prejudice and Zombies: The Graphic Novel
, which I had nominated, but it did not make it to the short list. I think
Ghostopolis
by Doug Tennapel will win, I've heard lots of good buzz
about it.

For
Middle-Grade Novels
, I wasn't too excited by anything on the list... until I saw
The Strange Case of Origami Yoda
. It's at the top of my nightstand and I can't wait to
read it.

For
Middle-Grade and Young Adult Nonfiction
, I'm hoping
The Hive Detectives: Chronicle of a Honey Bee Catastrophe
will win. What an important and worthy topic, and I love the
Scientists in the Field
series.
Kakapo Rescue: Saving the World's Strangest Parrot
is another strong
contender though.

The
Nonfiction Picture Books
short list has a couple of books that I have seen appeal to adults, especially
The Extraordinary Mark Twain (According to Susy)
by Barbara Kerley. I wanted to love
Pop! The Invention of Bubble Gum
by Meghan McCarthy but it just didn't grab me. Kids love it though. Ultimately, I hope that
Bones
by Steve Jenkins will win. His cut-paper collage style art is mesmerizing! I don't think I could ever get tired of Steve
Jenkins books.

For the
Poetry
shortlist, I see a number of books that I hadn't heard of, and I must check out!
Borrowed Names: Poems About Laura Ingalls Wilder, Madame C.J. Walker, Marie Curie and Their Daughters
sounds fascinating. I think
Mirror Mirror: A Book of Reversible Verse
by Marilyn Singer should win for it's sheer inventiveness. I would say that Joyce Sidman's
Ubiquitous
would be another possibility, but I wonder if Sidman's other book on the short list,
Dark Emperor and Other Poems of Night
, will end up drawing attention away from
Ubiquitous
, allowing
Mirror Mirror
to coast unimpeded
to victory?

And finally,
in the
Young Adult Novel
category, phew! Everything on the short list looks like a gritty, challenging read. If I had to guess, I might say that
Stolen
by Lucy Christopher will take the award.