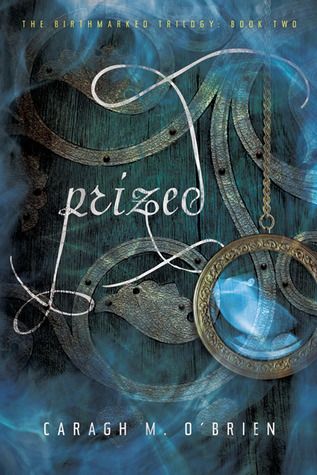 Prized
by Caragh M. O'Brien
Roaring Brook Press
November 2011
First line: "She grabbed the hilt of her knife and scrambled backwards into the darkness, holding the baby close in her other arm."
The dystopian saga continues, as teenaged midwife Gaia Stone escapes from the controlling factions near Unlake Superior. It's quickly apparent that she's jumped from the frying pan, into the fire. In Birthmarked, Gaia lived in a modest cottage with her small family, with the unpleasant job of delivering babies to the nearby city to meet their "quota" to the Enclave. Since making her escape to the settlement of Sylum, ostensibly ruled by a council of elder women, she finds things even more challenging. At first, the hardscrabble life of the settlers seems like salvation for Gaia who is on the run from the authorities of the Enclave. They provide food for her sickly infant sister and welcome her skills as a midwife. But, Gaia soon finds that the rules at Sylum are quite harsh. She can't leave because the Matrarc is holding her sister Maya hostage. Also, the residents are suffering from radiation poisoning, which only worsens if they try to run away into the surrounding Wastelands.
In Sylum, men outnumber women by about 10 to 1 - meaning that even with her scarred face, Gaia is considered a great prize. She's still interested in Leon, the boy she met in Enclave, but now she has two new suitors: brothers Will and Peter. It's a love square! Gaia also has the option of declaring herself a "libby" - a group of women who remain unmarried, but lose their voting rights on the council. Kissing without intent to marry is outlawed. Men who overstep their boundaries with the few available bachelorettes find themselves harshly punished. O'Brien's rich vocabulary gives a unique feeling to the world - set in the future, yet living like pioneers in the past.
There are plenty of meaty issues to explore in this series: infertility, abortion, gender roles and class differences to name a few. I'm looking forward to reading the final book in the trilogy, Promised.
Compare to:
The Hunger Games - Suzanne Collins
Graceling - Kristin Cashore
Wither - Lauren DeStefano
The Pledge - Kimberly Derting
I borrowed this book from the library.