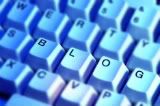 What I really ought to do, is use Google Reader more consistently, so that these kinds of things don't necessarily come across my radar. But, here are the kinds of things that drive me craaaazy on people's blogs.
1. White text on black background.
I know. I know. I've been there. The first website I designed had white text on black background, and I thought it looked so cool. Plus, there's a certain old-school charm for those of us old enough to remember those old-fashioned green and black, or amber and black computer screens. Except, no. It's murder on the eyes, and there's no reason for it.
2. Curlique fonts.
Can't stand it! Keep the fonts simple. There's a few that are good: Verdana, Georgia, Times New Roman, Helvetica, Arial. Don't stray too far afield from those classics.
3. HUGE blog header.
Don't overdo it! Should I know the name of your blog? Yes. Should it be the only thing that I see when I open the page? No! Blog headers should be wider than they are tall.
4. Auto-play music.
That's an instant close the window for me. Can. Not. Stand. It. I don't care how cleverly you got the sound of ocean waves to play or whatever. I don't want to hear it!
5. Misspellings and grammatical mistakes.
I am terribly judge-y when it comes to these. It's so unfair. I know we in the blogopshere don't have the luxury of editors to smooth over our words. I'll forgive the occasional obvious typo. But when I see a common mistake, like "your" for "you're" I'm clicking on the "x" to close a window faster than fast.
6. Sidebars gone wild.
It might start out simply enough... a link or two, some cool widget, a count-down thingie for the next book in your favorite series, maybe an ad or a shout-out to your other favorite bloggers. Before you know it, things get out of hand, and your blog is all sidebar and no content. I know I lean pretty heavily on the "anti-sidebar" side of things. As it is, I feel like my blog already has too much junk on the sidebar, but my followers have asked for this and that. I think your blog should take up about 75% (or more) of the window. Once a sidebar is at 50%, you've got to be offering something pretty special in your content to compete with all that clutter. And I've seen lots of blogs, that easily have 70% sidebar stuff, 30% reviews and whatnot, which is a total turn-off to me.