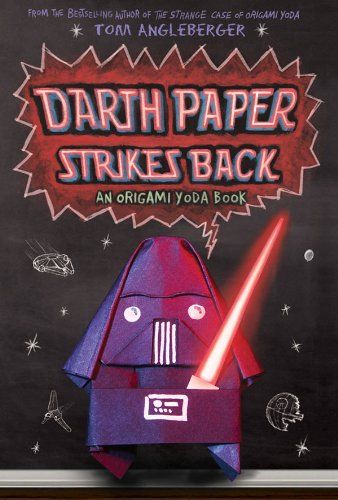 Darth Paper Strikes Back
by Tom Angleberger
Amulet Books
August 2011

The whole gang from The Strange Case of the Origami Yoda returns. This book really has all the elements familiar to the current school environment. High stakes testing, computer lab firewalls which students cleverly work around and bullying are all addressed throughout the course of the story.

Antagonist Harvey has begun using his origami Darth Vader to sow discord at Ralph McQuarrie Middle School and undermine Dwight's Origami Yoda followers. Dwight - whose quirky sense of humor, keen social insight and outsider status leave adults uncertain whether to label him as gifted or special needs is made to stand trial, as his mother heartbreakingly confronts the principal, school board, teachers and fellow students who have failed him. Tommy and Kellen, the two "ordinary guys" in the story, function as observers as they try to pull together a set of "files" to prove how Dwight's presence at school has been helpful rather than destructive.

As an adult, reading this book, the saddest part for me was seeing the school principal who had solid buy-in for the testing program which seemed to be stressing so many students out, and failing to recognize those kids (like Dwight) who were truly innovative and intelligent.

Kids will enjoy picking up the storyline from the first wildly popular Origami Yoda book, complete with diary-style hand-written fonts and doodles in the margins. Star Wars quips and jokes abound, of course.

I'll recommend this book for fans of Diary of a Wimpy Kid, Frankie Pickle and Big Nate who are hungry for more highly-illustrated middle-grade, boy-friendly fiction.


I borrowed this book from the library.