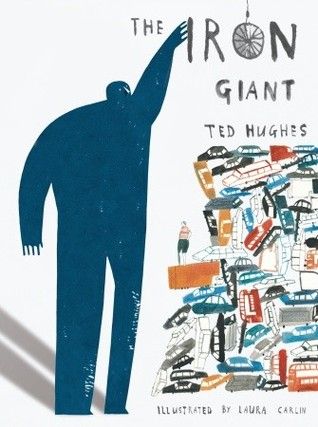 The Iron Giant
by Ted Hughes, illustrated by Laura Carlin
Random House Children's Books
September 2011

Hughes's parable about peace, originally penned in 1968, is given new life with Carlin's cut-paper, multimedia illustrations. In the first half of the book, after crashing to Earth, the Iron Giant re-assembles himself and wreaks havoc on the local farming community by eating its tractors and farm implements. After succumbing to a pit-trap, he is tamed by Hogarth, a boy who leads him to a scrap yard where the Iron Giant can finally eat his fill.

In the second half of the story, a space-bat-angel-dragon as large as Australia threatens the Earth. Several pages of concen
tric die-cut circles punch up the importance of its arrival. The formerly silent Iron Giant finds his voice to challenge the creature to an endurance test. Burnt nearly to a crisp after two consecutive trips to the surface of the sun, the space-bat-angel-dragon relents and agrees to sing peaceful music-of-the-spheres instead of waging war. The oversize illustrations are rendered in a restrained muted palette of blues, browns, reds, and blacks but exhibit great variety, sometimes emphasizing the shadowy, blurry nature of the giant, other times utilizing sharply cut lines and finely drawn small townsfolk. Occasional use of hand lettering amid the text lends drama and interest. Lengthy for a picture book, but a bit short for a novel, this is a smartly designed, highly illustrated novella in picture-book format.


I received a free copy of this book from the publisher.
This review originally appeared in School Library Journal.