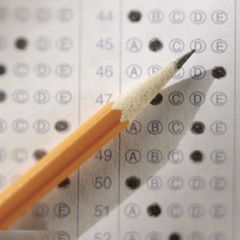 I've been storing these thoughts up for a while, letting them rattle around, and I'm still not 100% certain I want to post about this yet. I've been thinking about Accelerated Reader Quizzes which are owned and run by Renaissance Learning, Inc. They're increasingly popular in schools. Kids read books, and then sign online to take a quiz. Enough successfully completed quizzes will accrue them points, and then they can spend points on prizes provided by their school. There usually are AR parties, hosted several times a year for kids who have maintained a certain level of success with the program.

Despite the expense, it's a very, very attractive package for schools to use. It quickly and easily sorts books by reading level and provides a nearly instantaneous level of feedback for administrators. They use a system called ATOS, similar to reading lexile to determine the difficulty of each book. Educators can log in and immediately pinpoint what classes, districtwide, have comprehension or vocabulary problems. Parents can log in and get several charts and graphs, displaying their child's accomplishments.

Ordinarily, I might not worry overmuch about what happens in schools. Sure, I want to support what homework kids might be doing, and educating everyone (including teachers!) about the difference between "the internet" and "databases" is a constant struggle. But, on the whole, I see the public library as an ideal place for pleasure reading - for people to turn their minds to what interests them. There's a real benefit to that. Taking a break from serious study refreshes the mind. When kids and teens have the chance to explore their own interests, they're more invested, and keeping involved at the public library (especially over the summer) has been shown to improve students skills. But, AR Quizzes are on my mind more and more, because they're growing increasingly ubiquitous, and the demand for them is beginning to encroach on what I do.

There are a couple of kids I helped at the library recently who especially stuck out in my mind. Probably the most heartbreaking was a little girl and her mother who came to me looking for suggestions for remedial reading - the girl hadn't gotten to go to any AR Quiz parties at her school that year, but she had high hopes that if she did a little better she'd make it next year. Wow! This was a child who sincerely enjoyed reading - maybe she was a little behind her grade level, but she wasn't what you'd call a "reluctant reader" - someone who finds reading difficult or a chore. She was still in high spirits, and frequently read for pleasure. I wondered how long it might take for that to change in the face of repeated messages that she was a failure.

I also particularly remember a kid who was energetically telling me about all the reading she'd done that week. She raced through five books and had aced the AR Quizzes for all of them! When I congratulated her, and asked her which were her favorites, she blithely assured me that she didn't remember any of them - she didn't need to, now that she'd finished the quiz. Wow. Will she be a lifelong reader? I somehow kind of doubt it. After all, with no quiz, or points to motivate her, why would she ever pick up a book? She seemed to enjoy reading in the same Skinnerian way that you might enjoy racking up points on a boring, easy, pointless video game. In my mind, that hardly counts as enjoying reading at all.

Finally, I worked with a boy this past week who was looking to stock up on chapter books for the holiday break. With his smartphone at the ready, he checked each book I recommended, and dismissed 4 or 5 of them out of hand when he didn't find them on arbookfind.com, or when they came up as "not on his level."

I've had hurried parents ask me why we don't shelve books by their AR level, as opposed to by author or by Dewey Decimal number, and I've had many requests to begin labeling our books with the AR book level prominent on the spine, as many school libraries currently do. That alone seems like a monumental task involving considerable expense in office supplies and staff time. It's not something that I'd look forward to doing, especially considering it's a proprietary system, owned by one company.

Last summer my library participated in a pilot program where we offered AR Quizzes at the branch (normally, they are only available at school) and barring any unusual circumstance, we will probably offer them next summer. I have my concerns though... last year the library got access to the quizzes for free, through the auspices of the local school that had a contract with Renaissance Learning. What will happen if and when Renaissance Learning asks the library for money to continue funding the ability to take quizzes at the library? What will happen if and and when the library discontinues carrying the quizzes, and then must cope with an outpouring of complaints from parents who demand the service?

Despite my concerns, public libraries exist to meet the needs of our communities. If people want AR Quizzes, if they're excited about them, we'll try to provide them. I can't begin to number the times that I've helped a parent by showing them how to use the arbookfind website - how grateful, even gleeful they were to have access to such a great tool. I've even seen aspiring authors use the AR website to gauge how to assess what level their unpublished books might be considered, and how to accordingly pitch their manuscripts.

Like it or not, AR Quizzes seem like they're here to stay for a while. I'm keeping a curious and cautious eye on how public libraries will continue to respond to the demand that they create.