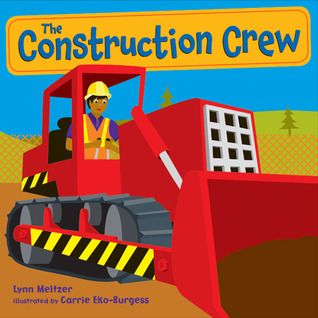 The Construction Crew
by Lynn Meltzer, illustrated by Carrie Eko-Burgess
Henry Holt & Co.
November 2011

Here's a nice, simple book celebrating construction vehicles of every type. In short rhyming sentences, readers see a house begin to take shape. Colorful digital illustrations have a very crisp, smartly designed, cut-paper feel. Rhyming couplets such as "Dig now/Build later/What do we need?/Excavator!" use clean sans-serif font with each vehicle name punched up in color. The construction crew (and the surrounding neighbors watching the proceedings) are diverse and inclusive. I loved the page where one of the construction workers, deeply concentrating on the work at hand, is squinting and sticking out his tongue. I also liked seeing the dreadlocked housepainter climbing the extension ladder and the female backhoe driver. Keep a sharp eye out for the little bluebird who is hidden on nearly every page.

This is a great
selection for transportation obsessed toddlers and preschoolers. Where the typical construction book ends with the completion of a project and the workers going home, this story takes an unusual turn when the purple and gold mansard roof home is completed, and we see the family move in. "On the wall/Let's hang a poem/What does it say?/HOME SWEET HOME!" Sure to be a storytime hit.

I borrowed this book from the library.