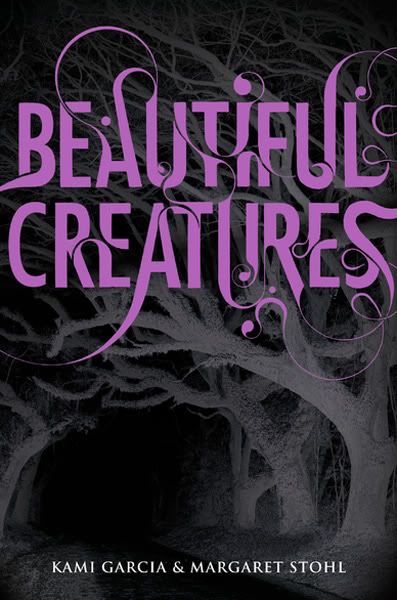 Beautiful Creatures
by Kami Garcia and Margaret Stohl
Little, Brown Books
December 2009
Hurrah! A supernatural YA romance with a male lead! I really enjoyed the unique perspective on this one. The writing in this book was beautiful, Gothic and very atmospheric. I was in complete suspense and kept expecting vampires to show up, and was a little pleased that ultimately, there didn't seem to be any (although supernatural creatures of other sorts definitely abound.)

Ethan Wate,
who can't wait to get out of the small town of Gatlin, South Carolina that he feels trapped in, is a very relatable character. When Lena Duchannes, a girl who's been haunting his dreams, shows up as a transfer student at his high school, he's mesmerized by her. As their relationship progresses, Lena remains a mystery. She's counting down the days, and seems to be pretty depressed about it, but as to what it is she's expecting when the clock runs down, the reader doesn't find out until the very end. Ethan is very tentative and unsure of himself as he reaches out to Lena, which I thought was very believable
and sweet.

Garcia and Stohl c
apture perfectly the intensity of the characters' first romance. The cast of gossipy and petty small-town characters serve to further isolate the two from everyone else, making them that much closer. Lena is staying with her uncle Macon, a wealthy town eccentric who lives in a grand estate up the hill. I enjoyed the study in contrasts - when Ethan gets the rare chance to see the inside of Macon's decrepit mansion, he's shocked to find that on the inside, it's decorated in a clean, bright, IKEA catalog fashion. While he is quick to attribute many of the odd things he sees to rational explanations, ever so slowly, Ethan is finally able to puzzle out what is happening and it's on a far grander scale than he could have imagined. Shapeshifters, magic spells, ancient curses, a race of people known as "Casters" with supernatural powers used either for good or for evil, a secret underground supernatural library... for readers who are willing to hang in there for the long, slow set-up, the ending of this book is a proverbial grand fireworks finale, with a huge showdown between good
and
evil.


I received a free copy of this book from the publisher.