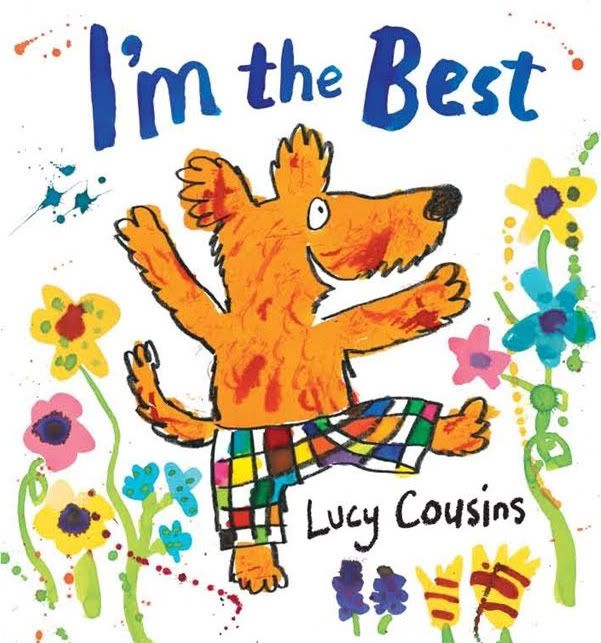 I'm the Best
May 2010

In this upbeat offering from Cousins, uber-competitive Dog is more than happy to inform his friends Ladybug, Mole, Goose and Donkey just who exactly is top dog. Dog can run faster than Mole, dig holes better than Goose, far outclasses Ladybug in terms of physical size, and can swim better than Donkey. Depressed at being outshone, Dog's friends all sit down to sulk until they realize that much like the game of rock-paper-scissors, they each have their own strengths: Mole can dig better than Dog, Goose can swim better, Donkey is the biggest of all of them, and Ladybug can fly, something that Dog can't do at all. Devastated, a weeping Dog realizes that he isn't the best after all and he tearily admits, "I'm mean to my friends." They reassure him that he has beautiful fluffy ears, which leaves Dog feeling like he's back on top again.

Clean backgrounds with plenty of white space makes the bold pencil-lined, bright watercolor illustrations really pop. Seeing the characters moods dip between glee, pride, dejection, disappointment and back again, with just a few simple lines is a testament to Cousin's skill as an illustrator. There's a child-like charm to the simple flowers, trees and sun that show up on a few of the pages. The inferred lesson of the book, about the perils of boasting, is delivered with a lot of humor and charm and never hits a didactic note. This funny story will suit children ages 2-5.


I borrowed this book from the library.