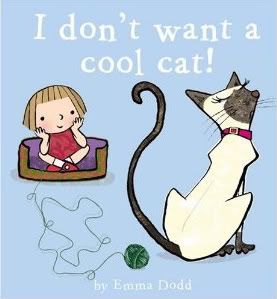 I Don't Want a Cool Cat!
August 2010

In this British import, a little girl enumerates all the kinds of cats that simply will not do for her. "I don't want a cool cat. A treat-me-like-a-fool cat." I loved the expressive cats featured on every page. The grey Himalayan "huffy, over-fluffy" cat stares dourly back at the reader. The greedy cat struggles in vain to push his considerable girth through the cat flap on the door, as the girl determinedly marches forth, can-opener and bowl of food in hand. The marble bengal prize cat pauses to catch her reflection in one of her many trophy cups and smiles back at herself. The big cat (an enormous tiger that takes up the entire page) is followed by a too small, hairless cat, and here, the illustrator has the cat and girl in the lower quarter of a two-page spread, surrounded by empty space, emphasizing the "too smallness" of this cat. The sweet little friendly kitten that the girl finally chooses at the end of the story, who she joyfully calls "my own cat" does appear to be just about perfect. The endpages features a repeating motif of red balls of yarn. Easily rhyming, steadily paced text paired with oversize bold-lined illustrations make this book a natural for sharing at storytimes. Dog-lovers should check out the accompanying book, I Don't Want a Posh Dog.


I borrowed this book from the library.