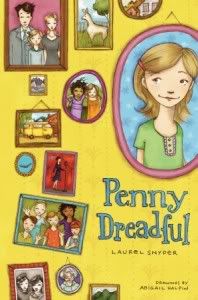 Penny Dreadful
by Laurel Snyder, illustrated by Abigail Halpin
Random House
September 2010
Penelope Grey leads a pretty regulated life at her family's mansion in the city, with a private tutor, maid and chef to take care of her every need. Bored, she decides to make a wish in an old well, for an
everything change
- a total life transformation. Shortly thereafter, her father quits his steady job in order to become a writer, something that leads to the financial ruin of the family, and an eventual move to an old great-aunt's house in the country which they've inherited in the small town of Thrush Junction.

Snyder really has a way of getting inside a kid's head, and understanding how they think, revealed in little details. For example, when Penny meets one of her new neighbors, a boy next door, she notes that he is wearing a striped shirt. She follows that observation by wondering why it is, exactly, that boys seem to wear stripes so often. Great question! This book reminded me of The Higher Power of Lucky by Susan Patron; Penny even ends up trapped in a hole, briefly, relying on her friends to get her out of the jam, much the way Lucky does, except Penny Dreadful is much lighter and funnier in tone. No scrotums or dead parents in this novel. Penny's parents do seem pretty whimsical, almost to the point of absurdity, but the story has a certain quirky internal logic that never wavers.

Penny often falls prey to magical thinking, and the reader never really knows for sure... was the well she makes a wish on magical or not? Her reasoning is that her father quitting his job may have been her fault. So, she makes a second wish to "fix everything" deciding that if it works, the well is magical, and she's done her best, if it doesn't work, then the first wish coming true was only a coincidence and therefore not her fault. Like most readers, I'm betting on the well not being magical, but I love the fact that it's so open-ended.

Penny, an avid reader herself, is always hoping for an adventure, much like the things she reads about. I was tickled to see an homage to so many children's books in Penny Dreadful. Penny's mention of a book of "unfortunate events" that she's reading, where "a baby was about to bite someone," made me laugh out loud. She also mentions children's lit favorites such as The Penderwicks, The Secret Garden, Ramona, Mrs. Piggle-Wiggle, and Ballet Shoes. Heartwarmingly, Penny wonders if another of her new neighbors, a girl about her age, Luella, will be the Betsy to her Tacy. This collection of classics is fine company to keep, and the sweetness of the story makes this book suitable for third through fifth grade readers.


I borrowed this book from the library.