A short while ago, I put together a display of "green" books. One unexpected benefit of this was most of the books covers were either green, paper-bag brown, or white. It made a really nice unified look.
One of the hottest items on the display, by far, was this Cool Crafts series by Carol Sirrine put out in 2010 by Snap Books. Titles like Cool Crafts with Old Jeans, and Cool Crafts with Old T-Shirts were impossible to keep on the shelf, but the others in the series: Cool Crafts with Wrappers Cans and Bottles and Cool Crafts with Old CDs were pretty popular too.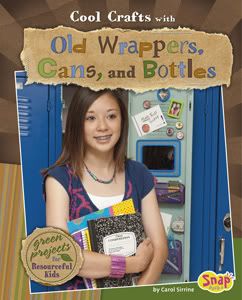 Interested in putting together your own green themed display? It's not hard. Check the non-fiction under Dewey numbers 333.72 and 640 first, but don't overlook other areas too. There are titles cataloged under nearly every subject that may tie-in to the theme. Throw in some classic picture books like The Lorax and Bill Peet's Wump World, and mix it up with newer titles like 10 Things I Can Do to Help My World by Melanie Walsh (2008), OK, Go by Carin Berger (2009) or We Planted a Tree by Diane Muldrow, illustrated by Bob Staake (2010). There's lots of middle-grade fiction featuring a green theme too. Just Grace Goes Green by Cherise Mericle Harper (2009), Judy Moody Saves the World by Megan McDonald, illustrated by Peter Reynolds (2002), Mallory Goes Green by Laurie Friedman, illustrated by Jennifer Kalis (2010) or Watch out World, Rosy Cole is Going Green by Sheila Greenwald (2010).
This display was in a high-traffic area of the library, where mixing the age-ranges for materials made a lot of sense. Check your OPAC for terms like "sustainable living," "recycling'" and "enviromental protection," and see what comes up.