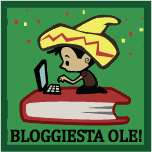 It's on! A full weekend of blogging madness, and it's not too late to sign-up over at Maw Books. I talked a little about my goals for this season of Bloggiesta, last month, when the dates were first announced.
You can think of Bloggiesta as a self-improvement weekend retreat for your blog. Take time to do some catch-up reading, write some reviews for a rainy day, take part in challenges and tutorials. Basically, re-tool and improve your blog!
I don't imagine that I'll keep careful track of the hours spent, but do keep an eye out for my summary post at the end of the weekend!