I couldn't help but notice that that cover for HarperCollin's upcoming anthology Dear Bully: 70 Authors Tell Their Stories looked awfully familiar. It's the same picture from the cover of Boy Proof! And then, I wondered if this might be the same model from the cover of The Declaration.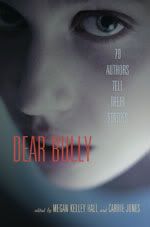 Dear Bully: 70 Authors Tell Their Stories
edited by Megan Kelley Hall and Carrie Jones
HarperCollins
June 2011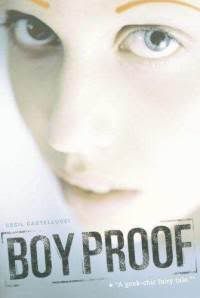 B
oy Proof
by Cecil Castalucci
Candlewick
February 2005

Meet Egg. Her real name is Victoria Jurgen, but she's renamed herself after the kick-ass
heroine of her favorite sci-fi movie, TERMINAL EARTH. Like her namesake, Egg dresses
all in white, colors her eyebrows, and shaves her head. She always knows the right answers, she's always in control, and she's far too busy — taking photos for the school paper, meeting with the Science Fiction and Fantasy Club, and hanging out at the "creature shop" with her dad, the special-effects makeup wizard — to be bothered with friends, much less members of the opposite sex. As far as Egg is concerned, she's boy proof, and she likes it that way. But then Egg meets a boy named Max, a boy who's smart and funny and creative and cool . . . and happens to like Egg. Could this be the end of the world — at least as Egg knows it?
-from Goodreads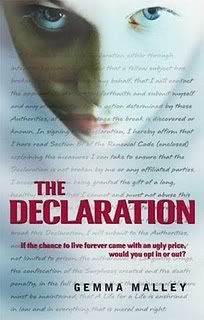 The Declaration
by Gemma Malley
Bloomsbury
October 2007
It's the year 2140 and Longevity drugs have all but eradicated old age. A never-aging society can't sustain population growth, however…which means Anna should never have been born. Nor should any of the children she lives with at Grange Hall. The facility is full of boys and girls whose parents chose to have kids—called surpluses—despite a law forbidding them from doing so. These children are raised as servants, and brought up to believe they must atone for their very existence. Then one day a boy named Peter appears at the Hall, bringing with him news of the world outside, a place where people are starting to say that Longevity is bad, and that maybe people
shouldn't
live forever. Peter begs Anna to escape with him, but Anna's not sure who to trust: the strange new boy whose version of life sounds like a dangerous fairy tale, or the familiar walls of Grange Hall and the head mistress who has controlled her every waking thought?
Chilling, poignant, and endlessly though-provoking,
The Declaration
is a powerful debut that will have readers agonizing over Anna's fate until the very last page. -from Goodreads