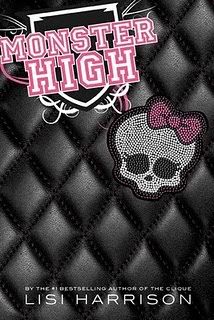 Monster High
by Lisi Harrison
Poppy
September 2010

This bubbly, light-hearted, humorous book alternates chapters between teen girls Melody and Frankie. Melody Carver is a Beverly Hills refugee whose family has recently moved to a sleepy Oregon town to give her a fresh start after her nose job. (Her former schoolmates nicknamed her "Smellody" because of her giant nose.) Unimpressed with the way her improved looks affect the shallow people around her, Melody spends a lot of time brooding. Frankie Stein, on the other hand, is merely 15 days old, but appears to be 15 years of age. Her parents, both monsters themselves, have brought her to life in a lab, and she's had little company other than her genetically modified pet mice, the Glitterati. In order to blend in at the local high school, Frankie is forced to wear make-up to cover her green skin, something which irks her to no end, as she's proud of her unusual looks. At school, Frankie meets with other monsters living undercover, Lagoona Blue (a mercreature), Draculaura (vampire, of course), Deuce Gorgon, (this one speaks for itself) D.J./Jackson Hyde (split personality), Cleo de Nile (an Egyptian mummy) and Claudine (a werewolf). All of them are R.A.D.s, or Regular Attribute Dodgers. Not having experienced the years of discrimination that the other monsters have faced, Frankie is eager for the R.A.D.'s to come out of the closet and mingle more openly with the "normies."
Frankie's favorite saying is "Voltage!" and she is frequently embarrassed by losing a sewn-on body part at a critical moment. Near the book's end, at the big school prom, she kisses a boy, and her head pops off, a scene which is played for laughs. What I hadn't realized when reading this was that the story is actually based off a line of dolls by Mattel. Now everything makes much more sense. Although the book is about high school students, it will probably have more appeal for a younger, tween audience.

True fans of supernatural fiction or paranormal romance will probably be disappointed by the hyper-giddy characters and the conspicuous name-brand dropping. I might recommend this to readers who enjoyed Meg Cabot's Airhead series. Readers who enjoyed Harrison's other works, such as The Clique or The Alphas, or Cecily Von Ziegesar's Gossip Girls or The It Girl series, who are willing to dip their toes in paranormal waters might also enjoy this book. There is a sequel, The Ghoul Next Door, which is due out in April.

I received a free copy of this book from the publisher.